At this weekend's NHRA Southern Nationals in Commerce, Georgia the first 2008 GT500 Convertible Cobra Jet will enter the NHRA Super Stock class. This particular CJ is not one of the 50 "factory built" by Ford Racing for NHRA Stock competition, it was one of five pre-production or test mule units built for testing and NHRA submission/approval. The black car started life as a Ford Racing test "mule" Shelby GT500 convertible serial number FRCJ500MO2 and was converted by George Wright and Jimmy Ronzello to run NHRA Super Stock/E class or AA/ S Stock class. What a versatile car!
A "mule" is a factory prototype that was made from an existing vehicle, a Cobra Jet hardtop test mule was made from a red V-6 Mustang while the black Super Stock convertible mule was made from a GT 500.
For background information on the car build check out the 9500rpm.com website.
George Wright and Jimmy Ronzello are longtime Ford racers. They have raced Thunderbirds, Probes and Mustangs in NHRA and IHRA competition. When it was announced that Ford Racing was launching the Cobra Jet parts program they were the perfect candidates to start the project. They were close to Dearborn, had a background with Fords and could provide feedback to the CJ engineers on what worked and what did not work.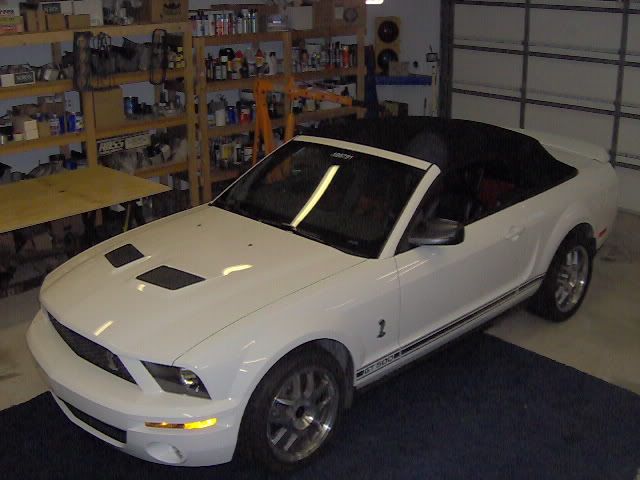 Jim and George took delivery of the 2007 Shelby 500 convertible in early 2008 with plans to build it to fit the NHRA Super Stock eliminator class. Once the Cobra Jet program was announced they obtained all of the necessary Cobra Jet unique parts like the hood, hood scoop, front fascia, 9-inch "Cobra Jet" real axle, Team Z anti-roll bar rear suspension, lightweight radiator support, and other unique parts to construct the car. A 10 point sub-9 second legal roll cage was built to protect the driver and provide support to the S197 frame. The "Cobra Jet" was approved by NHRA and was placed in the NHRA classification guide on 12/18/2008.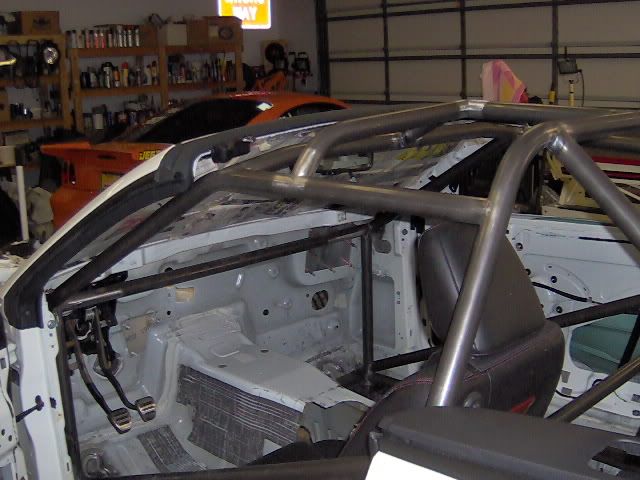 Midway through the home built project, with some input form Ford Racing, they decided to build the car to race in both NHRA Super Stock and Stock class. Plans are to run Super Stock at select NHRA National events and Stock Eliminator at Division 3 events in Ohio, Illinois, Michigan and Indiana. With minor updates the car is NHRA Super Stock legal and its a chance to try the stock suspension set-up in a quicker class. Stock suspension mustangs are running in the 7-second zone in other race series so an 8-second or 9-second pass should be easy for this Cobra Jet.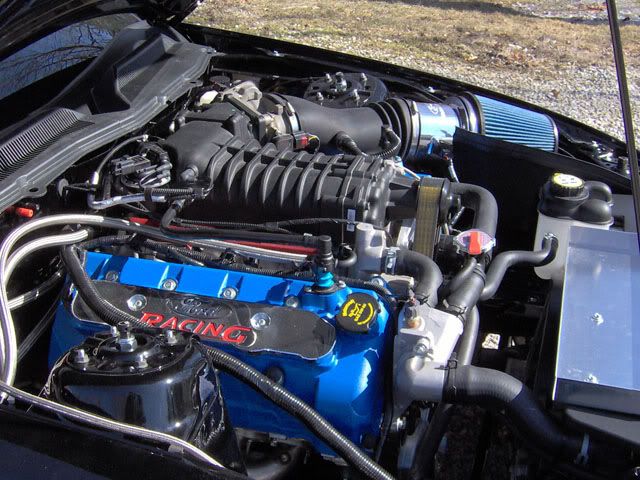 The car has been testing recently at Milan Dragway and has proven to be competitive. It's cool to see a stick-shifted Cobra Jet convertible competing in the Super Stock and Stock category. It shows the versatility of the new Cobra Jet parts program. We're cheering Jim and George on to make the car competitive in both classes.
Jimmy and George would like to thank the following for help on the project: Ford Racing, Eaton Performance Products, Aeromotive, American Racing Headers. MPR Race Cars, Dave DeMarco, Steve Egan, Joe Hodson, Joe Hodson Jr., John Kaminski, Jeff Pfeiffer, Kenny Sawyer and Dennis Wydendorf
If you are wondering about the Cobra Jet's sponsor Laid Ford. The dealership is in Frankston, Texas and has helped Jimmy and George over the years with their Ford drag racing program.